Our Major Brands

Other brands we recommend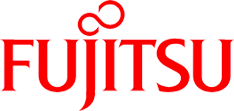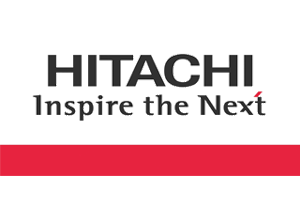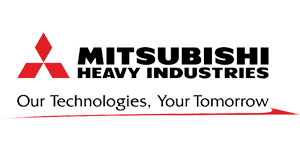 WHY CHOOSE US
Here are some facts.

10+
years industry experience

2000+
homes serviced and installed in Sydney

15+
trusted team of air conditioning and customer care

5Yrs.
labour and manufacturers warranty
OUR WORK
Here's what we've done.
Watch our projects up close.
Coogee Project
We installed a Daikin 14.0KW's ducted system, with 8 bar grilles, 4 different zones that all can be controlled at the homeowners comfort through wifi technology!
Watch our projects up close.
Oatley Project
This project consists of 3 boutique apartments. We installed Daikin VRV systems along with all the necessary mechanical ventilation works.
Watch our projects up close.
Homebush Project
A sneak peak into our recent Homebush project where we provided an innovative solution created by our installation technicians.
Our Partners
The builders that trust us.





WHY PEOPLE LOVE KYC
See what our customers have been saying about us.

Just had my air conditioning installed by KYC and am thoroughly impressed by the company as a whole. From the initial meeting at my house through to commissioning they were all extremely polite, friendly, respectful and above all professional. Chris came to my house and came up with a design that no other companies had thought of which suited my house and needs perfectly, and at a better price than the other quotes I received. They came and completed the job in the specified time, tidied up after themselves and said goodbye with a smile. I can't recommend this company enough.
Daniel Hill
3 months ago
Kristian and the team were fantastic from start to finish. Our house is hard to cool and heat, Kristian was brilliant at explaining what we needed and kept to our budget.
The team were quick and left my home clean. I would highly recommend them for all your air conditioning needs.
Louise Saxby
a months ago
Awesome service, asked for them to come give me a quote at a specific time which they did and on time (pretty rare). The price was very fair and were able to fit my job into my busy schedule.. Can't thank them enough for the professionalism and quality of work, cleaned up after themselves leaving my property spotless.. Thank you KYC Airconditioning !!
Michael Pedras
 3 months ago
HOW WE WORK
What you need to know about KYC Air Conditioning Systems.
Cooling Solutions Fit to Suit your Lifestyle
KYC Air Conditioning Sydney have been serving households and businesses across Sydney for more than 10 years. The experts at KYC help you in making the right air conditioning choice for your residential and commercial spaces. Our team also ensure that the air conditioning unit which you choose fits your requirements perfectly. From service, to after sales support, whenever you need help in maintaining your air conditioning unit, KYC will be there to take care of all your air conditioning requirements in a prompt manner. Your air quality and living comfort is our top priority and we make sure that we have efficient enough solutions to take care of our clients.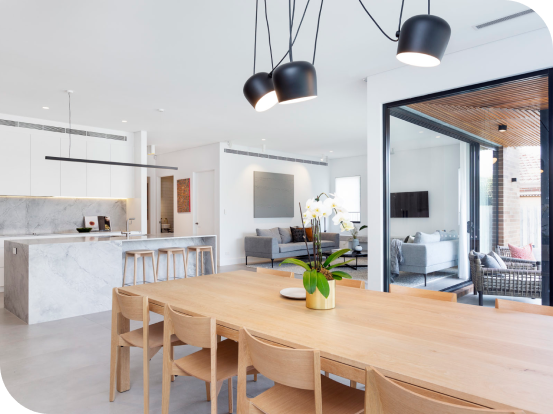 Air Conditioning in Sydney with KYC
Our pool of handpicked experts can help you with the installation of almost all types of air conditioning systems.
Quality, Each Time: The air conditioning experts with KYC pay great attention to deal and give you workmanship like never before. For us, quality supersedes everything else as we lay emphasis on the comfort of our clients.
Customized Solution: Depending upon your necessity and your budget, the sales experts at KYC air conditioning systems give tailor-made solutions. Want to know if a ducted cooling system or a split air conditioner works for your home? Get recommendations from experts at KYC.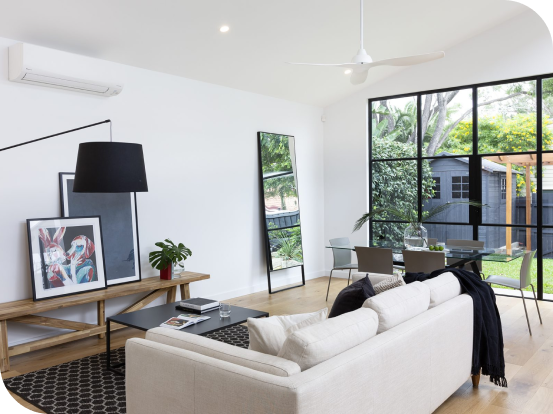 Air conditioning in Sydney for commercial premises
Our turnkey commercial aircon service in Sydney was created with one goal in mind — to make it easy for local businesses to adjust the comfort level on their premises.
Whether you're fitting out a retail outlet or planning to upgrade your office air conditioning equipment, we can design, specify, build and install a brand-new solution that meets all your needs. With more than a decade of experience designing and installing commercial HVAC solutions, we're the air conditioning contractors in Sydney you can trust to deliver every time.
We work with businesses in all industries and all areas of Sydney. From industrial and manufacturing facilities to hotels, restaurants, cafés, bars and corporate headquarters, our team has installed air conditioning systems for all types of commercial premises in the city. Whatever your specific requirements may be, please do not hesitate to contact us so you can discuss them with one of our commercial mechanical HVAC specialists.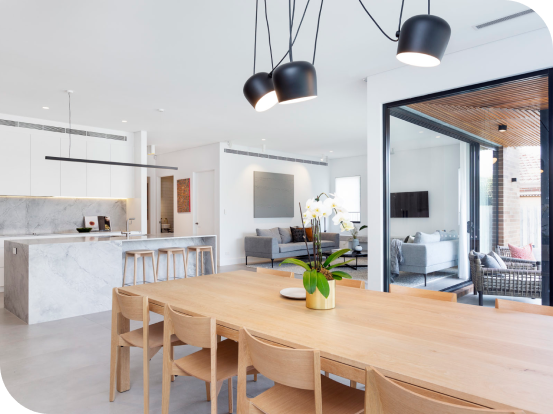 Our domestic air conditioning services in Sydney
We provide a full range of professional, competitively priced services that cover the needs of all residential customers in Sydney. Having specified and installed hundreds of new air conditioning systems for a wide variety of homes in the city, we have the knowledge and expertise to create perfectly functioning air conditioning systems for apartments, duplexes, townhouses, detached residences and any other residential property type.
We offer a turnkey service for residential properties across the city. Give KYC a call today to have one of our experts complete a site inspection to find the most effective solution possible. Our domestic air conditioning experts can specify the equipment you need to achieve your goals, design your new system from start to finish and install it in your home.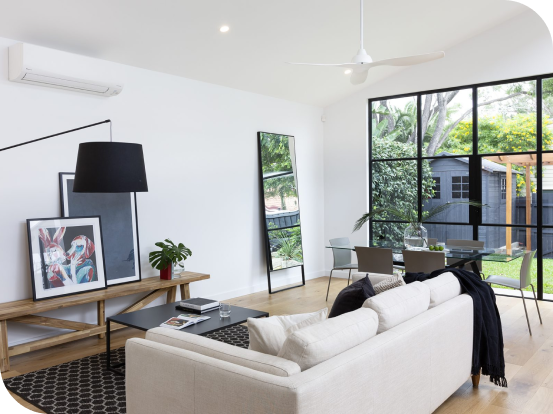 High-quality air conditioning service in Sydney
When we started our air conditioning company, we wanted to build a reputation for providing premium air conditioning services in the city.
Today, we are happy to have achieved these goals and many more. If you're currently looking for an air conditioning service company in Sydney that offers reliable, professional and trustworthy services, you need to call us first! With our guaranteed professionalism, you always get great service when you work with KYC Air Conditioning.
We offer a free measure and quote service, professional installation service and the best after-sales support in the business. Call or message us today to let us know how we can help you.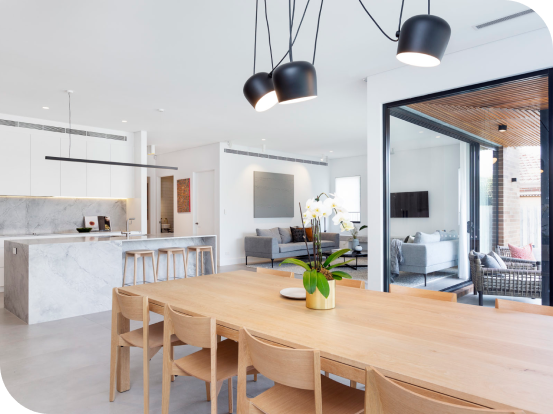 FAQs
How much experience do you have with residential air con systems?
We have installed air conditioning services in more than 10,000 Australian residential homes in Sydney over the past 10 years and performed thousands of repairs during our time in the industries. If you want a highly experienced team to Design, Supply and install a brand-new air conditioning system in your home, we invite you to call and speak to us about your needs.
What kind of warranties do you offer for air conditioning in Sydney?
Every member of our team is a highly skilled HVAC professional, and we only use the best components when building new domestic and commercial air conditioning systems. We use Australian-made and owned products. We provide our customers with a comprehensive 5-year warranty covering both equipment and labour for all new installations we complete in Sydney.
What brands of air conditioning equipment do you currently recommend?
We often work with Daikin air conditioning systems, but we're also happy to recommend and work with equipment produced by Fujitsu, Hitachi, Mitsubishi Heavy Industries, and various other reputable manufacturers. For a specific recommendation that meets your personal requirements, please feel free to call or email us.
Can you provide me with a completely customised aircon system?
Yes. In addition to our standard packages, we have designed, specified and installed thousands of custom air conditioning systems over the last 10 years and look forward to completing many more in the future.
We proudly offer a bespoke air conditioning service in Sydney to commercial and domestic customers.
Do you offer AC repair in Sydney?
Yes, we provide a comprehensive range of air conditioning services in Sydney, including installing, maintaining and repairing all types of commercial and domestic air conditioning systems. If you have a specific repair job you would like to discuss, please call or message us, and we'll be happy to help.